Discussion Starter
·
#1
·
There is a lot of information on this site as to what floor mat or what cargo liner is best. After reading the pros and cons of each product and based on my personal experience with WeatherTech in two vehicles I decided on something different.
The biggest challenge was to find a floor mat that completely covered the dead pedal (floor rest) and completely covered beneath the gas pedal as well as having a high side to contain snow and salt.
I'm sticking with the carpeted mats for the summer weather, but needed something better than the WeatherTechs for winter. The WeatherTechs are a good product, but I still find salt deposits beneath their mats as they don't provide full coverage for the driver. Living in the country I drag copious amounts of snow, salt, mud and slush into a vehicle every winter.
The U-Guard 3D KAGU Maxpider Floor Mat looked very promising until I saw a post showing that it didn't provide full coverage under the gas pedal. They retailed for $200.00 Cdn for a front and rear set, plus shipping and taxes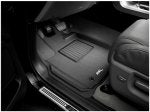 https://www.partsengine.ca/u-guard-3d-kagu-maxpider-floor-mat-in-black-p-54811.aspx
I ended up with Findway's F518 3D floor liner, full coverage and similar construction as the Maxpider. They retailed for $109 Cdn for front and rear, plus shipping and taxes. Shipping was reasonable, $15.00.
F518 Style 3D Car FLoor Liner--Porsche Cayenne,Volkswagen Touareg Waterproof All Weather 3D Car Floor Mats | Liners
For the rear, I went with VW's Heavy Duty Trunk Liner with Cargo Blocks for $140 Cdn at my dealer. I liked the idea that not only being water proof, the cargo blocks are held in place with velcro and there are 4 precut holes for the anchors. The Weathertech liner has a similar cargo block but they also rely on the weight of the cargo to hold them in place with friction. Lighter items don't provide the friction needed and items still move around.
2016 Volkswagen Touareg. #7P0061166A469: Heavy Duty Trunk Liner with Cargo Blocks - Gray
I just ordered all items tonight, once I receive and install them I'll post some photos.
brian