Discussion Starter
·
#1
·
Hey fellow members,
I had to tackle this door handle job trying to understand why my convenience switch was king of activating by itself.
Scanned module 46 Central convenience
Measuring blocks, 001 LF door, 007 RF, 008 & 009 the rears
if you 're looking at the 4th box in VAG COM it will say Not Activated or Not operational, when you press your button it will say Activated
My passenger door button was stuck on Activated all the time as if someone was holding it in non-stop.
To dissasemble the handle,
You need a
T20 torx bit
T5 for door handle bolts
Here's whats hiding under a black cover on front door, abou the door handle height
Keep unscrewing the T20 screw until you can easily move this piece and just pulling it outwards it should come out with a little bit of jiggling around
Now the door handle is a 3 piece affair, you will find tiny T5 screws at one extremity and the other, everything is sort of clipped toghether, apply gentle force evenly when trying to separate pieces, watch out not to be prying on a painted surface that is visible from outside
Now a little bit further into the dissassembly, i found my button and a tiny bit of moisture and probably corroded contacts on where it was sitting
I was very sorry to discover that the handle is not serviceable or parts cannot be replaced in it due to its one time design, and some kind of very hard sealant which is poured and solidified to supposedly keep all the electrics from the elements, however i think this is why they have such a high failure rate.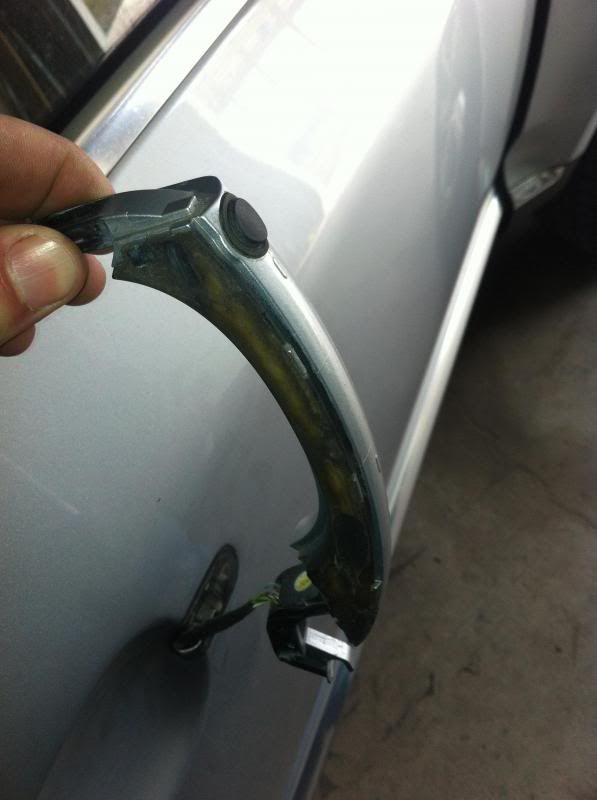 So all in all, decided to cutoff and isolate the wires going to this handle because as i was doing this dissasembly the VAG-COM was plugged in and monitoring inputs from the handle.
Even with the button completely unobstructed i would get the rather odd Activated state from time to time.
Unfortunately a replacement is the only option if you want this working, if not, well i can live without this on one or more door handles