Discussion Starter
·
#1
·
Before we start, there's the usual disclaimer. Do this at your own risk. If
you don't feel confident in doing DIY work then its best left to the
professionals. Always provide additional support when working under the
car. I cannot be held responsible for your wrong doing or anything you do.
etc etc.
Now we can start.
MAKE SURE YOU HAVE THE CORRECT PART BEFORE STARTING!
Time required: will vary but for myself it was the following
- sensor install 5 minutes.
- time to unplug connection 30 minutes
- time to clip connect onto bracket 5 minutes
- time to reclip connect onto bracket 10 minutes
Total: 50 minutes
Hopefully it doesn't take you as long as me!
Tools needed.
- Small flat screwdriver
- Long flat screw driver (may/may not need this)
- 10mm socket with ratchet
- T30 with a long extension. Mine was 40cms+
- A car hoist would be extremely helpful here (what I used) but I believe it
can be done with the car on one ramp under front left corner or possibly no
ramp at all (if you have the patience or are small enough to get under the
car)
- Engine crankshaft sensor ( I had to pull mine out to double check the
original sensor number because they gave me the wrong part initially)
Bosch 026 210 262
My replacement part was 077 905 381 K
Seeing as the Touareg and Q7 had the same engine, I did a lengthy search and found this page:
Audi Q7 Engine speed sensor
along with these images (no copyright intended)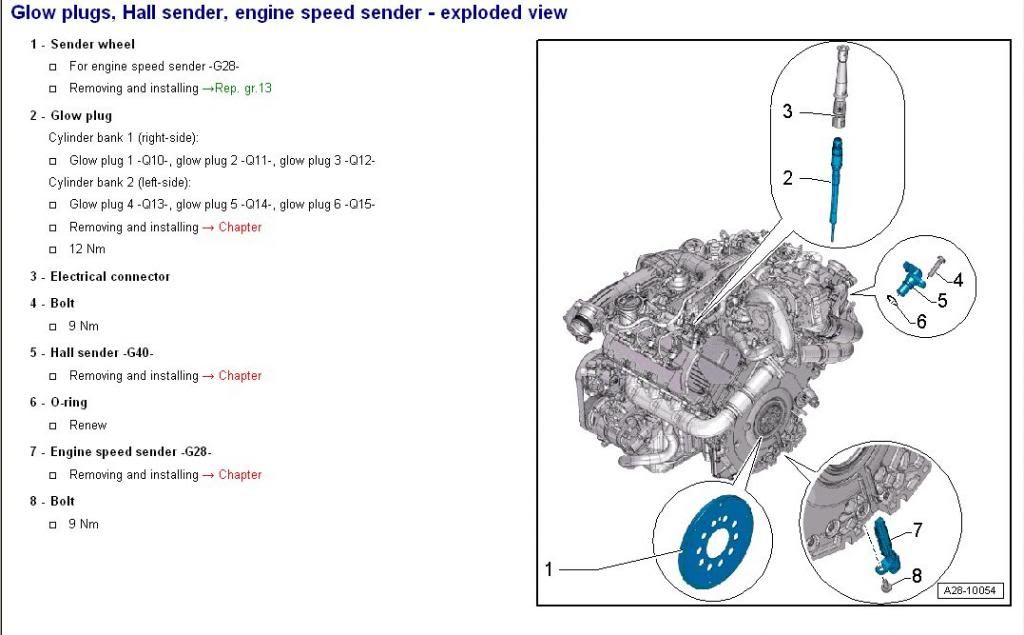 You will need to unscrew insulation section 2. I also removed section 1 for
easier access to the connection. The number 2 on the middle image is
where the actual sensor is. So turn your steering wheel all the way to the
right to gain access. This is what you are looking for.
After finding the sensor, you want to disconnect the plug first. This is
actually the hard part.
The sensor end plug sits on the clip in the picture below. To unplug it,
you push on the clip and push it further away from you. I found it easier to
push plug and pull from the other side (why i opened up insulation panel 1)
After I spent 30 minutes and finally disconnecting the plug, you then need
to take the plug end of the sensor off by pushing it upwards on the bracket. There is a groove which holds the plug in place so some force is
required. I found using the long screwdriver and pushing it up from
underneath worked.
Finally, using the T30 and the extension you unbolt the sensor.
The rest of the steps are just in reverse.
It is a simple fix, but due to the location of the sensor it may make it hard
for some. Especially the connector, they can be a PITA if they have never
been opened in a long time (such as mine)
Once finished, do a VAG-COM to clear any errors.
I hope I explained everything enough.
Good luck and have fun!